Edward Ultimate SUITE – For Education (Subscription)
Edward Ultimate SUITE – For Education (Subscription)
$25.00 / month for 12 months
IMPORTANT: Before you buy you must have successfully approved your education authorization here for activation.
Edward Ultimate SUITE is the Next Level virtual Foley Instrument which supports the free Kontakt 5 Player. No need to own a full version of Kontakt to run this instrument!
Foley Artist: Lara Dale
Foley Recordist: Josh Reinhardt
Multi licenses
1

2-5

6-9

10-19

20+

$

25.00

$

20.00

$

18.75

$

16.25

$

12.50
THE NEXT LEVEL VIRTUAL FOLEY
From deep heavy metal, old boat wood over gritty dirt, crunchy leather, crisp gun movement
to great sounding bags and coats, this library has it all! This is possible the most extensive
Foleyart instrument out there!! And it doesn't need any further expensive software.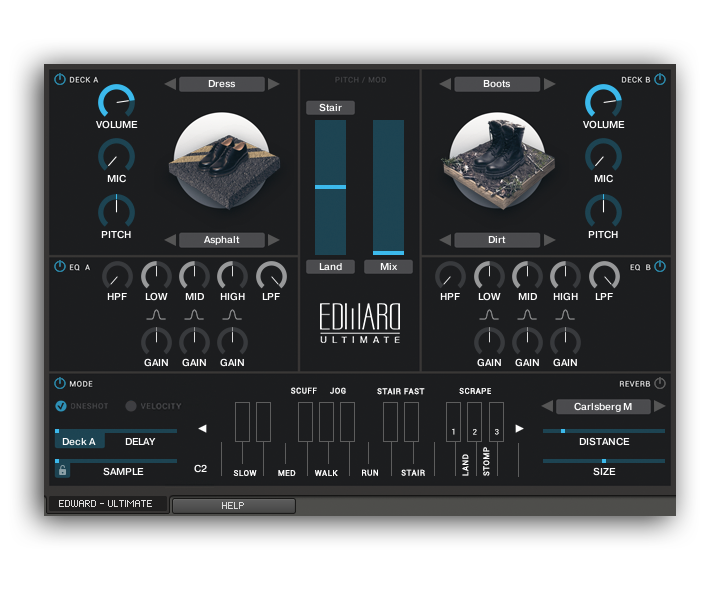 "The care and quality of the sounds and the thought and design
that has g
one into the interface is excellent" Mike Thornton
@ProToolsExpert
SURFACE TYPES
Asphalt • Carpet1 • Carpet2 • Concrete •
Creak1 • Creak2 •Diamond • Dirt • Grass •
Grate • Gravel • Rectangle Wood • Creaky Wood •
Parquet • Cut Wood • Swiss Dock • Boat Wood •
Linoleum • Marble • Puddle • Snow • Tile •
Metal • Rocks • Water • Deep Water
SHOE TYPES
Sneaker • Boot • Dress • Heel • Flat
PERFORMANCES
Extremely Slow Walk • Medium Slow Walk •
Walk • Jog • Run •Stairs Slow •
Stairs Fast • Stomp • Land • Scuff •
Scrape 1 • Scrape 2 • Scrape 3
CLOTHES USED
Heavy Coat • Coat Wool • Denim • Heavy Denim •
Fringe Suade • Fringe • Leather Heavy • Leather
Crunch • Leather Biker • Sequin • Shirt • Shirt
Light • Shirt Heavy • Silk • Tutu • Wind Breaker
PROPS USED
Rifle • Hand Gun • Army Gear • Backpack School •
Backpack Leather • Heavy Chains • Dog tags •
Duffle Bag • Paper Bags • Plastic Bags • Keys •
Purse • Purse Cloth
Please note, that not every combination is available. See the Reference Manual for a detailed overview.
LOCK THE TYPE OF RANDOMIZATION
Improve your workflow with locking the start sample of a clip. Edward will play the performance always with the same set of samples. Use the fader to adjust the first sound.
ADJUSTABLE DELAY
Either way if you mix two or more instances of Edward together or you just want to delay the entire footsteps in your session, the delay fader can be a genius helping hand. Also if you like to play more people at once with your keyboard.
PERFECT WITH EDV3RB
Footsteps have to suite the environment where the action is happening. Edward uses all EdV3rb Impulse-Responses inside the instrument. This is useful to archive your desired ambience and makes EdV3rb the perfekt AddOn.
REQUIREMENTS
• EDWARD runs in Kontakt or Free Kontakt Player version 5.5.2 or higher
• Mac OS X 10.10, 10.11 or 10.12 (for latest update)
• Older Mac OS X 10.8.3, 10.9 can use Kontakt 5.5.2 download here.
• Windows 7 or higher
• At least 4 GB of RAM (6 GB recommended), and 5 GB of free drive space
• Unzip software like free WinZip
• Stable internet connection to download files and product activation required.
Once activated it can be used offline.
Reference – Manual

Size on HD

Compressed 4,1 GB / Uncompressed: 4,2 GB

Quality

48 kHz, 24 Bit

Note

Please understand that download sales are final.
TOVUSOUND can not give refunds for download sales.